Using Breast Augmentation to Correct Asymmetry
By Sheryl Pilcher on June 07, 2014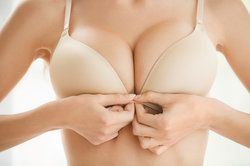 Although breast augmentation is traditionally sought as a way to improve one's bust size, there are other ways in which a successful augmentation can enhance breasts. In some instances, a woman may not be satisfied with the symmetry and uniformity of her breasts. If breasts differ in appearance due to varying sizes, shapes, or fullness, an experienced cosmetic surgeon and the right technique can help patients improve their appearance and confidence in a single procedure.
While most women have some degree of asymmetry in their breasts and overall features, prominently different breasts can be a source of discomfort and embarrassment. Our plastic surgery office in San Antoniotherefore offers breast augmentation as a way to achieve greater symmetry and, in turn, satisfaction with your breasts.
Reasons for Asymmetry
Women who have significantly asymmetrical breasts may feel self-conscious about their appearance, but this occurrence is entirely natural. During adolescence, it is possible for breasts to simply develop differently, leaving one larger than the other or differently shaped. In some instances, one breast may appear "normal" while the other is more elongated or seemingly underdeveloped. It is also possible for asymmetry to develop later in life, due to factors that drastically change the body and its proportions. Aging, pregnancy, weight gain, weight loss, and breastfeeding may all lead to such changes.
Of course, just because something is natural does not necessarily make it desirable. Everyone deserves the opportunity to be happy with his or her body, and when a woman feels like her breasts are negatively impacting the rest of her body's curvature, an enhancement procedure can help to permanently remedy this problem.
Candidates for Breast Augmentation
Women who wish to improve the shape or size of one or both breasts are generally good candidates for an augmentation procedure. There are few contraindications that are unique to breast enhancement, but we nevertheless advise all patients to consider their ability to undergo surgery.
Women should be in good health at the time of surgery. Any conditions that affect the vital organs or one's ability to recover must be discussed beforehand. Similarly, tobacco and alcohol use should also be discussed and temporary ceased around the time of surgery.
It is similarly important that women form accurate expectations for their procedure. While breast augmentation has a high rate of success and satisfaction, patients should not expect the breasts to be perfectly symmetrical or hold similarly unrealistic standards. By consulting Dr. Pilcher about your augmentation options, you can gain a more detailed understanding of how breast augmentation will specifically affect you.
Ways to Correct Asymmetry
Like any breast implant procedure, augmentation for asymmetry leaves patients and surgeons with numerous options. Between an implant's material, size, shape, profile, and volume, patients can achieve nearly any look for their breasts. Therefore, each patient's body type and goals for surgery are carefully evaluated, and the implants are selected accordingly:
Women with significant breast asymmetry may benefit most from implants that are differently sized. This technique focuses primarily on the breast that is smaller or underdeveloped, helping it to match and complement the other. Depending on the ways in which breasts are asymmetrical, implants may also utilize varying profiles and volumes to produce similar results between them.
Women with moderate breast asymmetry may also utilize differently sized implants, but should also consider implants are simply filled to different volumes. After inserting the implants into each breast, they are filled with saline solution as needed, allowing the surgeon to make subtle adjustments to size throughout the procedure until the best symmetry is achieved. This technique does not allow for the use of silicone or teardrop-shaped implants.
Women with minor breast asymmetry may be able to achieve greater balance in their appearance with identical implants in each breast. By enhancing the size and shape of each breast to a similar degree, minor discrepancies between them may be all but eliminated. This technique works especially well with women who already have relatively large breasts.
Schedule Your Consultation
We are eager to help you plan and prepare for your breast augmentation. For more information on what our practice can offer you, as well as what you can expect from this or any procedure, schedule your initial consultation with us today.
Related to This
"

If you need breast augmentation or any cosmetic surgery, I would highly recommend Dr. Pilcher....This has been the best decision I have made.

" Quintessa M.