Choosing Breast Implant Size: Concerns for Patients
By Sheryl Pilcher on February 19, 2015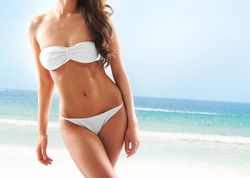 At Accent Plastic Surgery, P.A. here in San Antonio, we always make sure that our patients are well looked after and that they receive fully customized care. This is especially important for procedures such as breast augmentation surgery, which increases breast size and improves overall body contour.
We receive a number of questions about picking the right breast implant size for the needs of each patient. We'd like to look at this issue in greater detail right now.
Size Matters, but Bigger is Not Always Better
It's true that women undergo breast augmentation surgery in order to increase the size of their breasts, but the fact of the matter is that bigger breast implants do not always translate into better results. Sometimes taking a more conservative approach with regard to size and keeping other factors in mind will lead to a better overall surgical procedure than simply going with a large breast implant size per se.
Taking the Patient's Goals Into Account
Obviously cosmetic surgeons will take the aesthetic goals of the patient into account when they are designing the treatment plan for surgery and actually performing the procedure. Plastic surgeons always strive to meet the needs of their patients, and keep the patient's aesthetic goals in mind will allow patients to be satisfied with the final results.
Considering the Patient's Body Type
The patient's body type is an important concern to keep in mind when it comes to the overall nature of the breast augmentation surgery. Surgeons, taking the patient's aesthetic goals in mind, will also work to ensure that patients look proportionate after the surgery has been completed. This will make the results appear more natural.
Breast Implant Profile Can Be as Important as Size
While many people emphasize breast implant size when it comes to the results of breast augmentation surgery, another important consideration is breast implant profile. This refers to the amount of forward projection of the breast implants and the amount of cleavage that is created. Breast implants with a higher profile can make the breasts appear more prominent.
With this and the above in mind, sometimes a plastic surgeon may consider using a smaller breast implant size with a higher breast implant profile to address the needs of the patient, though the patient's frame and body contour will also have a bearing on this decision.
Other Factors to Keep in Mind
There are additional factors to consider when it comes to breast implants that can affect the overall look of the finished surgery as well as the right breast implant size to use. Different breast implant shapes are available, for example, and the placement of the breast implants relative to the pectoral muscle is also an important concern.
Tailoring the Surgery to Meet Your Needs
During the consultation process, your surgeon will work closely with you to ensure that you receive the treatment that you need to look your absolute best. All questions will be answered as part of this process and all concerns addressed so that you can achieve the best surgical results possible.
Schedule a Consultation with Dr. Sheryl Pilcher
To learn more about breast implants and breast augmentation surgery, it's of the utmost importance that you contact our cosmetic skin care and plastic surgery practice today. The entire team here at Accent Plastic Surgery, P.A. looks forward to your visit and helping you achieve all of your aesthetic goals.
Related to This
"

If you need breast augmentation or any cosmetic surgery, I would highly recommend Dr. Pilcher....This has been the best decision I have made.

" Quintessa M.