Scars After Arm Lift Surgery: What Patients Can Expect
By Sheryl Pilcher on October 07, 2016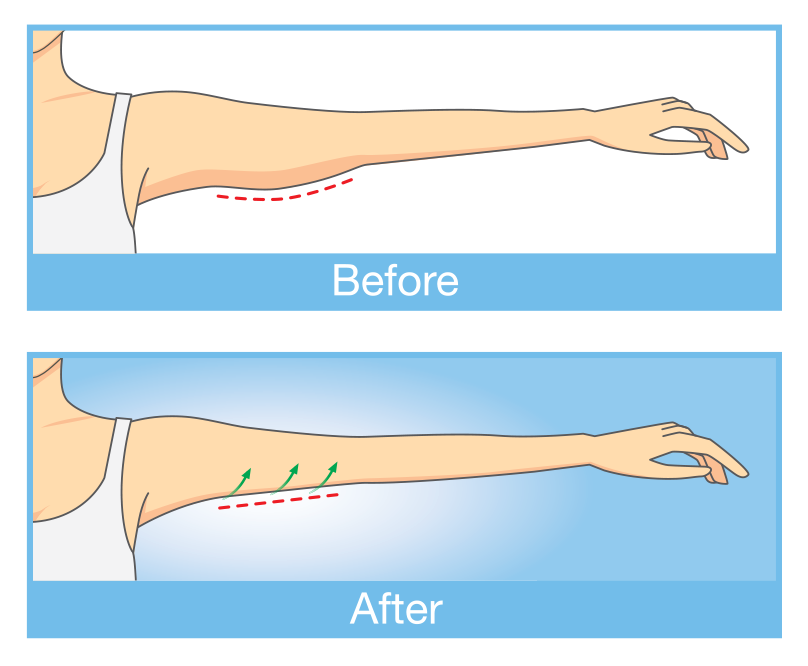 The people of San Antonio know that they can trust our team to achieve excellent body contouring surgery results. We work closely and carefully with each patient to ensure that they are well looked after and receive optimal care.
A number of patients have had questions about arm lift surgery and how it can help them look their very best. We'd like to go over the basics of the surgery and then focus on surgical techniques and scarring. This will help you understand what the procedure entails.
About Arm Lift Surgery
Arm lift surgery is a procedure that targets the flab and loose skin located around the shoulder area and the underside of the arms. The surgery will remove excess skin, fat, and tissue that causes the arms to look saggy, droopy, and oddly textured from stretchmarks. The surgery is often performed to deal with loose skin that occurs as a result of advanced age, major weight loss, a medical condition that triggers major weight loss, or a combination of these various issues.
Thanks to an arm lift, patients are able to have sculpted and toned shoulders and triceps that they can be very proud of. The arm lift can be performed on its own or as part of a total body lift procedure.
Incision Method for a Traditional Arm Lift Surgery
During a traditional arm lift surgery, the incision tends to originate in the armpit. It extends along the lower portion of the arm toward the elbow. Through this incision, liposuction can remove unwanted fat, excess skin can be removed, and underlying muscle and structures can be adjusted as needed. Once the contouring is completed, the skin is pulled tight and sutured.
Incision Method for a Mini Arm Lift Surgery
In some cases, a less invasive arm lift is all that's needed. The incision again starts in the armpit though may simple extend halfway to the elbow or less. The extend of the incision will depend on where the loose skin is located and how much there is.
Incision Method for an Extended Arm Lift Surgery
For major issues with stretchmarks and sagging, an extended am lift may be required. This is common for people who have experienced major weight loss. Rather than starting in the armpit, the incision may originate below the armpit along the side of the chest/torso. The incision then extended to the elbow. This allows plastic surgeons to achieve significant body contouring and sculpting along the entire length of the shoulder and arm.
How Visible Are Scars After an Arm Lift?
The scars after arm lift surgery are rather noticeable just given their location on the arm. However, we work carefully to limit the overall size and extent of these incisions.
With time, scars following the arm lift surgery will fade. This can vary from patient to patient, but with proper healing, the scars should be not particularly intrusive when wearing various kinds of tops.
How Patient Healing Affects Post-surgical Scars
Prior to arm lift surgery, we will provide detailed pre-op and post-op instructions for recovery. These instructions should help improve the overall healing process, allowing you to avoid risks and complication and achieve total wellness as a result. These instructions for recovery can also help make scars less noticeable by improving restfulness and reducing stress on the incision sites in the first days and weeks of recovery.
Learn More About Arm Lift Surgery
If you would like more information about arm lift surgery and other body sculpting and contouring procedures that can help you look your very best, be sure to contact our cosmetic plastic surgery center today. We will help you achieve your aesthetic goals through safe and effective procedures.
Related to This
"

If you need breast augmentation or any cosmetic surgery, I would highly recommend Dr. Pilcher....This has been the best decision I have made.

" Quintessa M.